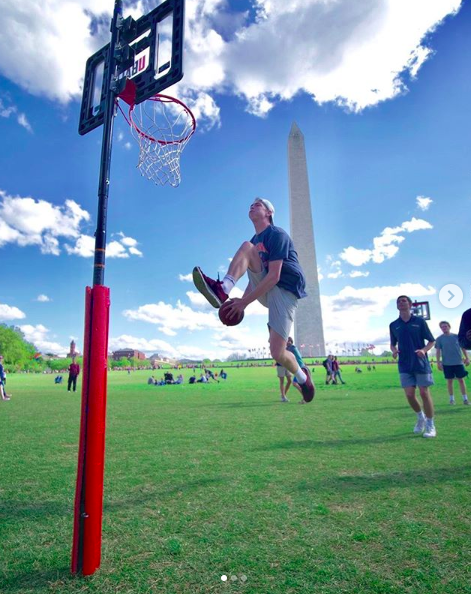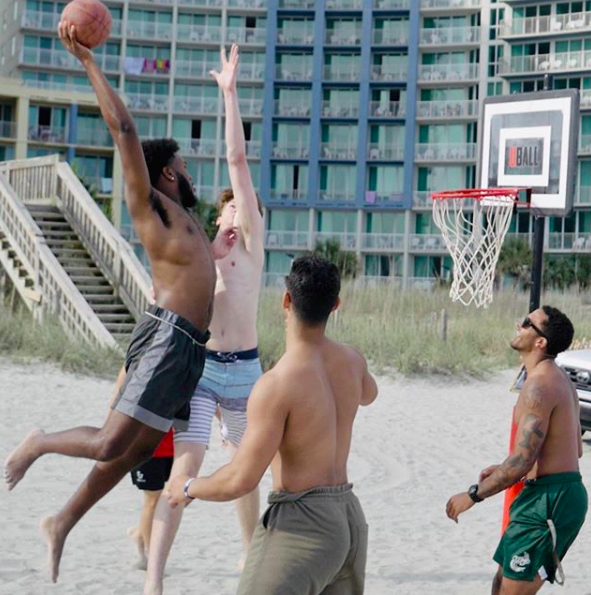 "No one wanted to lose, so the games got heated," Molly Shields (Col '20), co-founder of UBall, explains growing up with three brothers. "For years we played 2 vs. 2 games that were extremely competitive." Growing up in a sports-loving family, the Shields children were always searching for a place to play pick-up. It wasn't until the family was vacationing on the beach and looking for a court that the idea for UBall was born. Molly and her brother, Tim (Col '21), recalled the conversation as something like this:
"This would be so much easier if there was a court on the beach."
"Yeah, that would be awesome if we could just set it up here."
"…what if we could…"
So just like that, Tim and Mollly set out to create a game of basketball that could be played just about anywhere. UBall is designed so that anyone can bring a basketball set with them and set it up on any field or beach. In just a few minutes, it can be secured in the ground, like an umbrella. It then packs up into a backpack that people can carry on their back, making it extremely portable. Beyond its versatility, the major aspect of the game is that it is a reduced size so that the average person can experience one of the greatest plays in basketball: the dunk.
Tim and Molly have introduced UBall to the public throughout the past year from experimenting with their prototypes in the field. "We have gotten overwhelmingly positive feedback," Tim says, "People are so excited to see this new product: they love to play it, they love to watch it, and they love to tell people about it. Every time we set it up, people immediately ask us where they can buy it." The encouragement from users has propelled the two to keep working toward their final product and to get it to the market.
Although there are other popular outdoor games, the co-founders see Uball as more than a game. They consider it a new sport. "It resembles basketball, so people are familiar with it. However, it is different because it allows more people to play, and it allows people to play in a way they never have before," Molly explains. As a result, Tim and Molly feel that they are creating a new industry. In their quest to revolutionize basketball, the UBall creators are establishing the brand, creating the regulations for the sport, and setting theprecedent.
Tim and Molly have been dealt their share of challenges relating to product design. The two are working hard to find a balance between durability, portability, and cost. Tim and Molly attribute their success so far to their open-mindedness, which allows them "to make changes to create an even better, more practical product, while staying true to our vision."
Look out for their Kickstarter campaign, which will be launched by the end of their time here at the i.Lab. In the meantime, check out their videos on Facebook and Instagram!
I think that UBall has the potential to gain traction across all ages. The premise of UBall reminds me of Spikeball, which has become a household item for active families and beachgoers. The portability of UBall will be essential to their success, as I believe this is what made Spikeball so popular. I am very excited to see the Kickstarter campaign and purchasing a UBall set for my family!